Online Display Advertising
                                                  Don't be afraid to get creative and experiment with your marketing.
          ♦ Online and In-class training
          ♦ Hands on experience on live projects
          ♦ get access to tools and software free
          ♦ Became Google, Facebook and Microsoft certified
          ♦ Placement assistance for fresher and Digital Marketing experts
 

Modules Other Than Online Display Advertising Are
Search Engine Optimization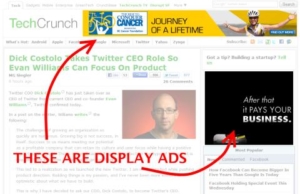 online classified adverting, dynamic banner ads, e-mail marketing, and cross-platform ads. It is quite result oriented as you can use targeted ads for different viewers to see different advertisements on the same page. Besides, it is less expensive than other forms of advertising, easily measurable and has wider coverage.