Programmatic Media Buying
Successful brands are those who understand the balance of story-telling & programmatic.
          ♦ Online and In-class training
          ♦ Hands on experience on live projects
          ♦ get access to tools and software free
          ♦ Became Google, Facebook and Microsoft certified
          ♦ Placement assistance for fresher and Digital Marketing experts
Modules Other Than Programmatic media buying Are
Search Engine Optimization
Online display advertising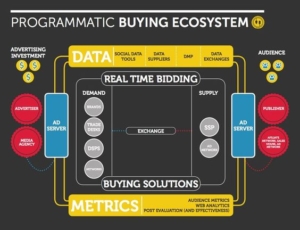 Programmatic media buying, known as programmatic, is an automated method of buying digital advertising in which supply and demand partners make decisions on a per-impression basis and adhere to business rules as provided by the operators of each platform. programmatic marketing is a way to target what types of audience you wish to show your advertising to. Which can encompass segments across demographics such as age, gender, social standing, to geographic in certain areas of the

country.

  As with Paid Search you can also limit the ads to times of day and frequency. You can decide which publishers you want your ads to show on. This way you are only paying for highly effective ads, delivered to the right people at the right time. It's a change from traditional ad buying. No longer a buyer agrees to run a certain number of ads with a publisher and is locked into the contract.